Dear Reader,

The only way you can achieve optimal, natural health is by taking care of one of your most important organs.

What most people don't realize is that everything is connected by an invisible thread in your body. That source can control some of today's most devastating diseases and conditions like:
Excessive fatigue1
Chronic pain2
Depression and anxiety3
Heart disease4
Autoimmune diseases like MS and Crohn's5
Brain fog and memory loss6
Diabetes7
Arthritis and joint pain8
And that source is your gut.
Like Hippocrates said more than 2,000 years ago… All disease starts in the gut.
You see, your gut plays a critical role in your overall health. It's a major part of your body's ecosystem. It's home to the trillions of bacteria that make up your "microbiome."
And this microbiome affects just about every organ in your body. Some of these gut bugs cause disease and infection. Others boost your immune system. Still others help you digest your food and turn it into vitamins.
The secret to vibrant health is having enough good microbes to crowd out the bad ones. When the "bad bacteria" in your gut crowd out the "good bacteria," you see an increase in disease and aging.
Studies show that an imbalance in your gut bugs can cause chronic inflammation throughout your body. And this inflammation is at the root of most diseases.
Our primal ancestors never had to deal with these diseases — in part because they had guts of steel. But today's toxic world is dangerous to your gut.
Our modern diet of processed foods has all but destroyed this vital organ. All those carbs, starches and sugars feed bad bacteria and yeasts in the gut. And common food additives further compromise the integrity of your intestinal walls and allow the bad bacteria to sneak into your bloodstream.
This damages your immune system and triggers an inflammatory response.
Modern medicine is finally beginning to understand the link between gut bacteria and inflammation. In a recent study, researchers transferred "bad" gut bacteria from sick mice to germ-free mice. Within days, the healthy mice all displayed symptoms of severe inflammation.9
In a separate study, German researchers analyzed the gut bacteria in healthy people and patients with heart disease. They found that the heart failure patients were missing important groups of bacteria that fight inflammation. Their gut flora was not as diverse as in healthy people.10
Along with a toxic Western diet, antibiotics, stress, excess alcohol, chlorine and other toxins can destroy your good gut bugs and allow bad ones to thrive. You can rebalance your microbiome with good gut bacteria called probiotics.
But not with the products you find on supermarket shelves — like enhanced yogurts and drinks. You'd have to consume way too much to make any difference at all. And most supplements aren't any better… When ConsumerLab.com tested a variety of probiotics, more than a third failed the tests. Most contained too few live bacteria to be effective.
Try finding a supplement that contains at least 10 billion CFUs (colony-forming units) of probiotics to ensure maximum potency. Anything less is ineffective and a waste of your money.
In addition to a good supplement, you can try to get more probiotics from your food. Fermented foods like kefir, kvass, sauerkraut and kombucha tea deliver billions of beneficial microbes in every bite.
One of our favorites is kimchi. This traditional Korean dish is loaded with good bacteria. Here's an easy recipe…
Easy Fermented Kimchi Recipe
Ingredients:
1 large Napa cabbage, cut into strips
3 carrots, peeled and cut into strips
½ cup sea salt
2 Tbsp. minced garlic
4-6 inches ginger, peeled and chopped
4 Tbsp. Korean red pepper flakes
2 bunches sliced green onions
4-6 inches ginger, peeled and chopped
One way to get more good gut bacteria is by eating homemade Korean kimchi.
Directions:
Place cut cabbage in bowl and cover with salt. Mix thoroughly. Let sit two hours until salt has drawn out all liquid.
Drain and discard water. Rinse cabbage to remove salt and allow to drain again.
Combine cabbage with remaining ingredients and mix.
Transfer to a 1-quart Mason jar. Stuff the cabbage tightly into the jar. You should have enough brine to cover the cabbage. If not, add water to cover the cabbage completely. This will eliminate any mold.
Seal the jar tightly. Let it sit on your counter for two to five days. Every day, remove the lid to release gasses and press down the mixture.
Store in fridge for up to six months.
To living healthier naturally,
Natural Health Pioneer
---
References
1. Newberry F, et al. "Does the microbiome and virome contribute to myalgic encephalomyelitis/chronic fatigue syndrome?" Clin Sci (Lond). 2018;132(5): 523–542.
2. Chaverneff F. "Microbiome: Linking nutrition and pain." Clinical Pain Advisor. September 6, 2017.
3. Clapp M, et al. "Gut microbiota's effect on mental health: The gut-brain axis." Clin Pract. 2017;7(4):987.
4. Luedde M, et al. "Heart failure is associated with depletion of core intestinal microbiota." ESC Heart Fail. 2017;4(3):282–290.
5. Manfredo Vieira S, et al. "Translocation of a gut pathobiont drives autoimmunity in mice and humans." Science. 2018;359(6380):1156-1161.
6. Rogers GB, et al. "From gut dysbiosis to altered brain function and mental illness: Mechanisms and pathways." Mol Psychiatry. 2016;21(6): 738–748.
7. Barlow GM, et al. "Role of the gut microbiome in obesity and diabetes mellitus." Nutr Clin Pract. 2015;30(6):787-797.
8. Schott EM, et al. "Targeting the gut microbiome to treat the osteoarthritis of obesity." JCI Insight. 2018;3(8): e95997.
9. Fransen F, et al. "Aged gut microbiota contributes to systemical inflammaging after transfer to germ-free mice." Front Immunol. 2017;8:1385.
10. Luedde M, et al. "Heart failure is associated with depletion of core intestinal microbiota." ESC Heart Fail. 2017;4(3):282–290.
Copyright © 2020 Natural Health Pioneer
Our address is 11905 Southern Blvd. #107 Royal Palm Beach, Florida 33411If you do not wish to receive future email, click here.

This salad really takes no time to make. I turn the oven to 400 degrees and place the bacon on a foil lined baking sheet. I immediately place the bacon in the oven even while it's preheating. Set the timer for 20 minutes and prepare the rest. I have everything all done and ready to go when the bacon comes out of the oven. Twenty minutes is all it takes.

This Broccoli Cauliflower Salad is super easy, tangy-sweet, and delicious. Jess and I always swap recipes. I remember her saying, she makes this salad when she wants something sweet and makes my Bacon Cauliflower Salad when she wants something savory. You should try both. They are both equally delicious and totally different!
Lacie's Easy Peasy Pleasy Tips…
You can easily cut this salad in half for a family weeknight dinner.
If you are wanting to make this salad the day before, keep the broccoli mixture separate from the mayo mixture (in the fridge) until you are ready to serve.
I prefer freshly cooked bacon but Jessie says she uses bacon bits in a pinch. The real bacon bits, not those red imitation things.
You can't go wrong getting in those veggies when it's made this way. Big huge thank you to my girlfriend Jessie for letting me share her recipe. I love it! Love you girl!
Broccoli Cauliflower Salad
Servings: 12
Difficulty: easy
Ingredients
1 head broccoli, chopped
1 head cauliflower, chopped
1/2 lb bacon cooked
1 cup shredded cheddar cheese
1 cup mayonnaise
1 cup sour cream
1/2 cup sugar
1/2 teaspoon salt
Directions
Mix broccoli, cauliflower, bacon, and shredded cheese in a large bowl. In a small bowl, mix mayonnaise, sour cream, sugar, and salt until well combined. Pour mayonnaise mixture over broccoli mixture and stir until well incorporated. Eat immediately or chill until ready to serve.
easypeasypleasy.com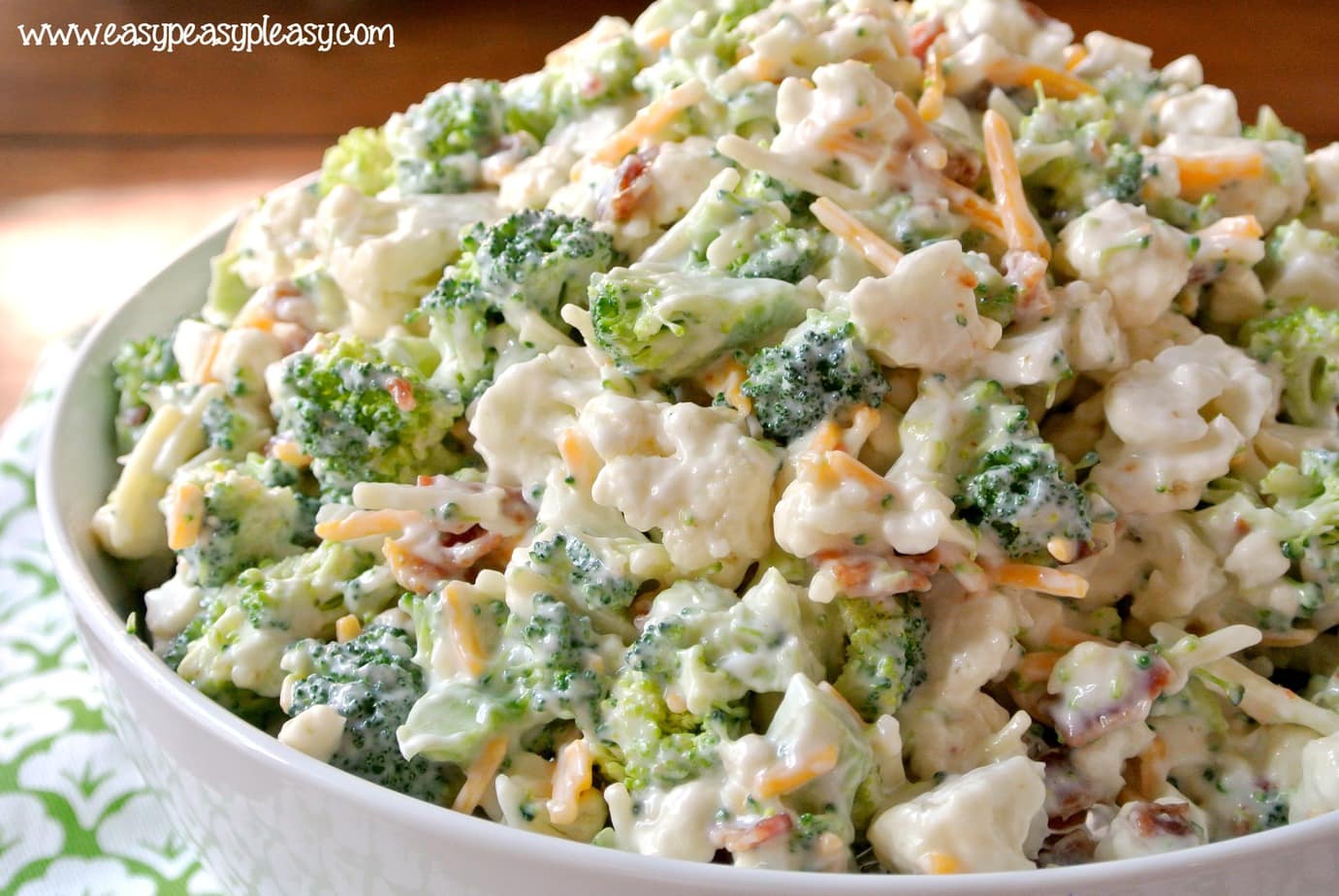 Climate-friendly recipe ideas
Cutting meat and dairy products from your diet could reduce your carbon footprint from food by up to 73 percent.1 So next time you're cooking dinner, consider your food's impact on greenhouse gas emissions.
Before meat and cheese-lovers lose faith: You don't have to totally cut out your favorite dishes from your diet to eat more climate-friendly foods. According to one study, if US consumers all adopted a "Flexitarian" diet — eating 1.5 ounces of meat a day or three hamburgers a week — it could help cut greenhouse gas emissions by as much as 52 percent.2
Reducing your consumption of foods that have a high carbon cost is progress — even if that just means eating a few more plant-based meals each week.
If you're interested in taking up a new plant-based diet or you're a plant-based eater looking for some new veggie recipes, try some of our team's favorites.
Apricot Tempeh Tacos
Ingredients for 8 tacos
8 corn tortillas
2 tbsp vegetable oil
For the tempeh and marinade:
8 oz tempeh
3-4 tbsp apricot preserves
2 tbsp tamari
1 tsp rice vinegar
1/4 tsp garlic powder
Salt, red pepper flakes, and black pepper, to taste
For the pickled jalapenos:
2 large jalapeños, deseeded and cut into strips
approx. 1/4 cup rice vinegar
1/2 tsp honey (or white sugar if avoiding honey)
For the slaw:
1/2 cup red cabbage
1/4 cup broccoli florets
1/4 cup shredded carrots
2 stalks celery
2-3 tbsp sunflower seeds
Juice of 1/2 lemon
Splash of rice vinegar
Salt and black pepper, to taste
For the sauce:
1/2 cup vegan mayonnaise
2 tbsp sriracha
Juice of 1/2 lemon
1 clove garlic
Begin by cutting the raw tempeh into strips about 2-3 inches long and 1/4 inch thick. (I tried flax tempeh, but regular tempeh also works just fine!) Combine the apricot preserves, tamari, vinegar, garlic powder, red pepper flakes, salt, and pepper in an airtight container to make the marinade.
Add the tempeh and toss vigorously to ensure that all the ingredients in the marinade are well mixed and fully coat the tempeh. Marinate for at least 1 hour, or up to 12 hours. (Consider choosing a high-quality apricot preserve with chunks of whole apricot in it. After cooking the tempeh and assembling the taco, these chunks of caramelized fruit are real delights in the finished product!)
Slice jalapeños into long, thin strips. Pour rice vinegar over the jalapeños until they are mostly covered, and then drizzle on your honey or sugar. Mix well so that the honey or sugar dissolves into the vinegar. Marinate for as long as you marinate the tempeh (1-12 hours.) This will perfectly pickle the jalapeños, giving them a slightly less hot and more flavorful touch.
After the tempeh and jalapeños have marinated, mix the vegan mayo, sriracha, lemon juice, and garlic together to make the sriracha mayo. Next, finely chop the cabbage, broccoli, carrots, and celery into small pieces to make the coleslaw. Mix the vegetables together with the sunflower seeds. Add the lemon juice, rice vinegar, and salt and pepper to taste.
Pour the vegetable oil into a nonstick skillet over medium heat. Add the tempeh and any remaining marinade into the skillet. Cook for approximately 4 minutes on each side, or until caramelized and crispy.
After the tempeh is crispy, empty into a bowl and scrape the pan clean. Heat tortillas on the same skillet for one minute on each side. Assemble the taco by spreading sriracha mayo on top of the tortilla, then placing the tempeh, 4-6 jalapeño slices, and a generous helping of slaw in each taco. Serve immediately.
Spicy Lime Stuffed Bell Peppers
Ingredients for 4 stuffed peppers
For the bell peppers:
4 green bell peppers
1.5 cups wild rice (dry)
1 can black beans
2 cloves garlic
1 jalapeno
Approx. 8 sprigs cilantro, chopped
Salt, black pepper, paprika, and Tajin, to taste
For the guacamole:
1 ripe avocado
2 roma tomatoes
1 jalapeno
1 clove garlic
1/4 red onion
Juice of 1 lime
Approx. 4 sprigs cilantro
Salt, pepper, and Tajin to taste
Preheat the oven to 350.
Cook rice according to package instructions.
Wash all produce. Cut off and discard just the very tops of the bell peppers, but creating a level top (so check and see if the peppers sit funky.) Scoop the seeds and white stuff out of the inside of the peppers.
Chop 2 cloves garlic and 1/4 cup cilantro. Drain and rinse black beans. Whenever the rice is ready, mix the black beans, garlic, jalapeno, and cilantro into the rice. Flavor with salt, pepper, paprika, and Tajin. (If you've never tried Tajin, it is a spice blend that can easily be found in most grocery stores. My partner introduced it to me a few months ago, and it's deliciously spicy and citrusy!)
Fill bell peppers with the rice and bean mixture until fully stuffed. Bake for approximately 30-35 mins.
While the bell peppers are cooking, make the guacamole. Finely chop cilantro, garlic, jalapeno, onion, and tomato and combine in a medium bowl. Spoon avocado into the bowl and smash with a fork until creamy, but where there are still a few avocado chunks. Cut lime into quarters and squeeze the juice of the whole lime over the guac. Add a liberal amount of salt, pepper, and Tajin. (If you don't like avocado, you can leave the avocado out of the guacamole recipe to create a delicious pico de gallo!)
When the bell peppers are tender, place a large spoonful of guacamole on top and garnish with a cilantro leaf.
Lemon Leek Risotto
Ingredients:
2-3 leeks
1-1/2 cups of mushrooms
2-5 cloves of garlic
1 lemon
1/3 cup chopped fresh parsley
1-2 tablespoons of chives
1 yellow onion
Olive oil
2-3 tablespoons vegan butter
1 3/4 cups arborio rice
5 cups vegetable broth
Salt and pepper to taste
Vegan parmesan (optional)
Slice 2-3 leeks (about a cup, cup and a half) into quarter inch slices and wash well, breaking them up. Slice 1-1/2 cup of your favorite mushrooms into bite size pieces. Dice 2-5 cloves of garlic depending on your taste. Juice and zest one lemon. Chop up about 1/3 cup fresh parsley and 1-2 tablespoons of chives. Dice one yellow onion.
Using a deep skillet (like a wok pan), saute the leeks and mushrooms in olive oil over medium heat until they start to get soft, about 5 minutes. Add in the garlic, give it another minute or so, and then set the veggies aside.
Melt 2-3 tablespoons butter in the pan. Add the onions and cook until translucent. Add 1 3/4 cups of arborio rice, stir, and let it cook in the butter for a minute or two, basically toasting it.
You'll need 5 cups of vegetable broth. One cup at a time, pour it in and stir, letting the rice absorb the broth before adding another cup. You don't have to stir constantly, but you don't want the bottom to burn or stick. After 4 cups, test the rice and see if it's soft — you want the rice to be creamy and chewy but not crunchy soggy.
Once the rice is ready, stir the vegetables back in. Add in the lemon juice, zest, parsley, and chives. Salt/pepper to taste.
Optionally add in or grate on top a little fresh vegan parmesan.
Coconut curry lentils
1/2 small onion, chopped finely
1 cup green or brown lentils
2 cups vegetable broth
2 tablespoon red or green Thai curry paste
1 can coconut milk
3 cups spinach
Cooked rice
Soak lentils in water for a few hours (optional – but doing this helps your lentils cook faster).
In medium saucepan, saute onion in 1 tablespoon olive oil until translucent
Add lentils, broth and thai curry paste, bring to boil and simmer until lentils start to soften.
Add coconut milk, simmer until lentils are done
Taste – add more curry paste, salt, or sugar to taste
Stir in spinach in batches and heat until hot.
Serve on top of cooked rice. Add a squeeze of lime or fresh cilantro if desired.
P.S. If you cook one of our team's recipes this week, post a picture of your plant-based dish and tag us on social media!
1. Olivia Petter, "Veganism is 'single biggest way' to reduce environmental impact, study finds," The Independent, September 24, 2020.
2. Tom Philpott, "You Don't Have to Be a Vegan to Be a Climate-Friendly Eater," Mother Jones, June 2019.