Amazon Affiliate Disclosure
5. Identifying Yourself as an Associate
You must clearly state the following on your Site or any other location where Amazon may authorize your display or other use of Content: "We are a participant in the Amazon Services LLC Associates Program, an affiliate advertising program designed to provide a means for us to earn fees by linking to Amazon.com and affiliated sites." Except for this disclosure, you will not make any public communication with respect to this Agreement or your participation in the Associates Program. You will not misrepresent or embellish our relationship with you (including by expressing or implying that we support, sponsor, or endorse you), or express or imply any affiliation between us and you or any other person or entity except as expressly permitted by this Agreement.
Our Home, Our Nest, Our Domain. Our
Sanctuary.
Break small house.
 It's where everything that we love the most is, well protected. It's where we come to after a hard day of work. It's where we rest, and put our mind at ease and prepare together with the ones we love. to get recharge to continue everything again the next day. It's a place of enjoyment. Do you know that you can sue your Landlord if he's somehow interfering with your enjoyment of your apartment or house? So the law is supposed to protect that part of your life. Home it is the place where your heart is! We truly believe that we are SAFE. It's very good to think this way. So. let's make sure it will be this way, always!
 Contamination from Products in our Home.
I know for sure that most of the products that we have been using for cleaning have got plenty of toxic, harsh chemicals.
Amazing how they are getting away with it. The FDA does nothing to enforce or reinforce the law. I am not surprised about it.
They have laws that before you do a project, the same needs an evaluation from experts that are qualified to investigate the implications that project will do to the environment. That evaluation has never, ever happen.
They just go ahead and do the project. They do whatever they want.
They don't measure the consequences that could do to our system, to us. I hear that we are exposed to about over 200 chemicals each day from our Personal care and cleaning products that can cause huge issues to our health.
It's out there, it's in there. Our homes are invaded every day with a serious amount of toxic presence without being invited.
We have to take care of ourselves and our family. Awareness is a huge advantage for us, the consumers.
Be informed. Take things into your own hands. Do not expect that they will tell you, they will not. Do research and eat, clean, take care of you, your family, loved ones and do what is best for you. Being very careful because the authorities are in about their own interest. You have to find things out for yourself, they will not take care of it and not allow them to use these chemicals. It is too much money going on from hands to hands. The system is corrupted.
I have done a lot of research and I really don't care how long it will take. Honestly, I think my research will never be finished. It will always be time for more research.
It's the only way we can keep ahead of everything that is going on. I'll keep you up to date. You can trust that everything that I suggest to you, it is safe. Please, feel free to go and browse till you find what interest you. It will do you good. I guarantee it. I can personally recommend you some products for Cleaning and Personal Care that is very good. Murchison Hume has been very popular for its effectiveness. Another product that delivers effectiveness is Puracy, Totally affordable and even using wonderful clean and safe ingredients that don't compromise the quality.
 Murchison-Hume Refill Heirloom Dishwashing Liquid – Original Fig –
Puracy Natural Home & Kitchen Gift Set, Sulfate-Free Soaps, Non-Toxic Cleaners, Hypoallergenic Detergents…
Amazon is a very reputable company. It has a lot of different brands that gives you vast ways to choose the best they have.
I have done research on every product that is on this page, and the other pages too! I am giving you my recommendations. These are the brands that I choose myself. I want you to have choices, so you can decide what you think that it's going to suit you. They are all with their own characteristics, packaging, smells, but, they are of great quality. Green Shield Organics has come to face a tough competition because it's also, very effective
Green Shield Organic – USDA Certified Free and Clear Laundry Detergent – 100…
I advise you to choose a brand, try and if does not satisfy you, next time choose another one. Continue to do that till you find the one that pleases you the most. We all have different tastes. Sometimes what is good for me, may not be good for you. It's good to compare prices! The prices are really very affordable if you compare the prices that Organic products are these days. Grab Green Natural is going to win your heart with very concentrated products that last, going on their long way with amazing savings.
Grab Green Natural 3-In-1 Laundry Detergent Pods, Gardenia…
We all have different tastes. Sometimes what is good for me, may not be good for you. It's good to compare prices!
Now another Home Solution that is rocking the Planet. Especially with the respect with actions that helps this beautiful planet continue to thrive being beautiful as always has been. Very well behavior. Shouldn't every company be this way?  Of course, it should! Natural Homelogic.
Natural HomeLogic Eco-Friendly Toilet Bowl Cleaner,…
Dr. Bronner's brand run by Amazon that has the quality of the other ones that I have had recommended to you. Dr. Bronner's cleaning solutions have the grade of very good quality and affordability as everyone that I have suggested to you today.
Dr. Bronner's Pure-Castile Liquid Soap, Lavender, 32 Fluid Ounce
We have a lot trust in Mrs. Meyer's also. With all the clean and non-toxic smells that make you feel that you have a cleaner Home, Sweet Home, indeed!
Mrs. Clean Day Multi-Surface Everyday Cleaner, Lavender Scent, 32ounces, Concentrated, 2 Bottles. The prices of these products are really amazing. Can you imagine 2 bottles with 32 ounces each, concentrated, which means, you can increase the volume mixing it with water, that will make much more for the price there is? It's absolutely a bargain. You can't find such savings anywhere on the planet. These are organic, clean ingredients and the Smell is definitely gorgeous. You have your aromatherapy while you clean. I bet you know about lavender powerful soothing smells. Delicious! Never mind the fact that your home will smell marvelous!
MRS MEYERS Multi-surface Concentrate, Lavender, 32 Fluid Ounce (Pack of 2)
Mrs. Meyers Clean Day Liquid Hand Soap 6 Scent Variety…
by Mrs. Meyers
Corner bedroom with a bed and a nightstand with a white lamp.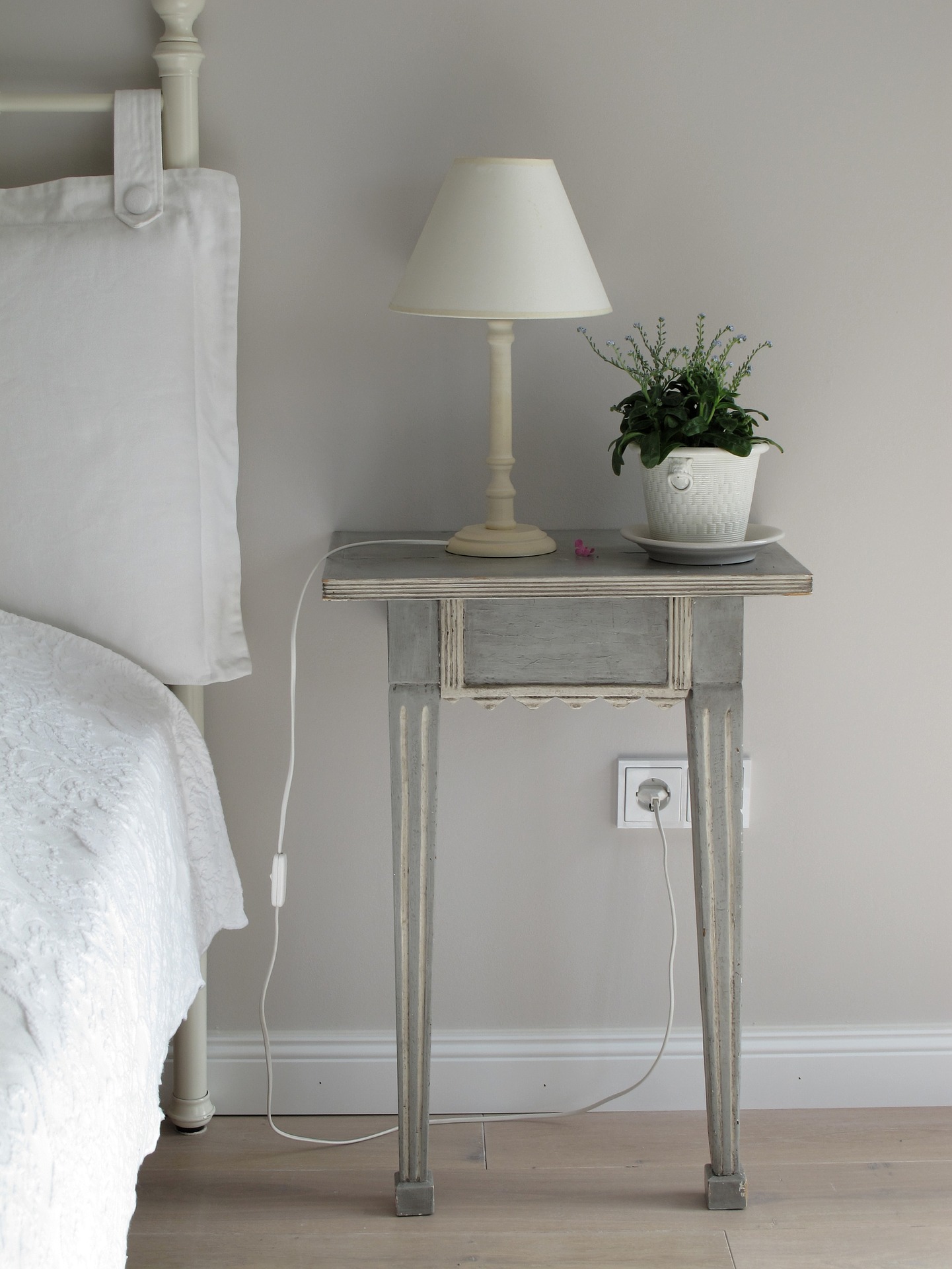 If you have any questions and concerns, please leave a comment and suggestions that you may have that I will be very glad that you did. I really need your feedback, especially because I am in research mood every second of my life, and your opinion is very important to me. I always want to learn more and more about this subject. It's always room to learn, I think. Thank you so much.
God be with you, always!
Luzia Soares